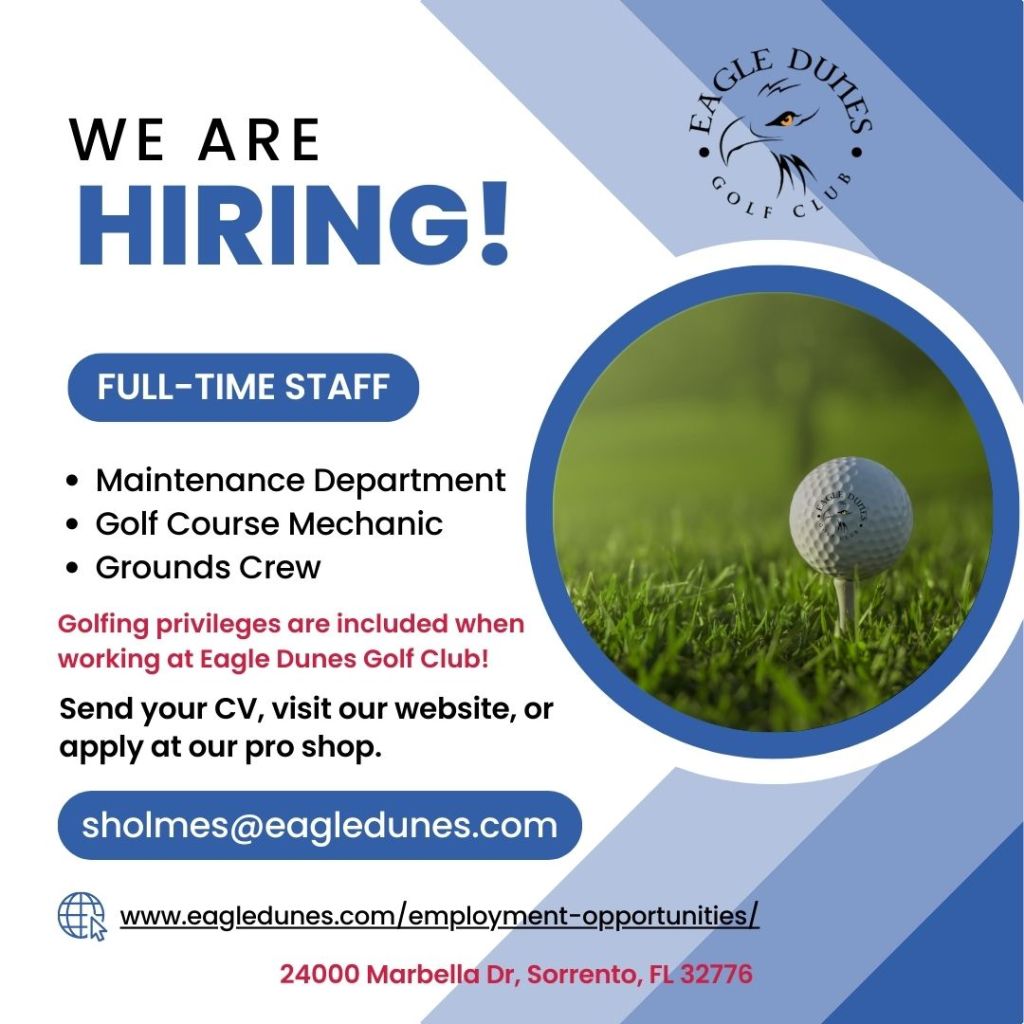 Golf Course Maintenance Staff – Golf course maintenance staff typically includes a range of responsibilities related to the upkeep and maintenance of the golf course.
Summary: As a member of the golf course maintenance team, you will be responsible for ensuring the overall cleanliness, appearance, and playability of the golf course. You will work closely with the golf course superintendent and other team members to maintain the course to the highest standards.
Responsibilities:
Perform routine maintenance tasks such as mowing, edging, and trimming the grass on fairways, greens, tee boxes, and rough areas.
Operate and maintain various equipment, such as mowers, tractors, and utility vehicles, following all safety procedures.
Maintain and repair irrigation systems, ensuring proper watering of the course and addressing any issues promptly.
Rake and maintain sand bunkers, ensuring proper sand levels and smoothness for optimal play.
Assist in the installation and maintenance of landscape features, including trees, shrubs, and flowers.
Perform regular turf maintenance tasks, such as aerating, topdressing, fertilizing, and overseeding.
Monitor and control pests, weeds, and diseases through the appropriate application of chemicals and pesticides.
Keep the golf course free of debris, including fallen branches, leaves, and trash.
Assist in the setup and preparation of the course for tournaments, including moving tee markers, flag positions, and course signage.
Provide exceptional customer service by interacting with golfers in a friendly and professional manner.
Qualifications:
Previous experience in golf course maintenance or related field is preferred but not required.
Knowledge of golf course maintenance practices, equipment operation, and turf management is desirable.
Ability to operate and maintain various landscape maintenance equipment.
Familiarity with irrigation systems and troubleshooting.
Basic understanding of chemicals and pesticides used in turf management.
Physical stamina and the ability to work outdoors in various weather conditions.
Strong attention to detail and the ability to follow instructions.
Excellent communication and interpersonal skills.
Ability to work independently and as part of a team.